04
November 19th, 2019
Finding things to do with kids during a city break can be quite overwhelming, especially when you're visiting somewhere new. Look no further for inspiration – check out our list of the top cities for a weekend getaway, along with the child-friendly activities you can enjoy at each one.
Liverpool
Liverpool boasts a weekend of fun for the whole family. Visitors can easily travel between all the great city attractions on offer, a way to keep little ones occupied all day long.
Mattel Play
Younger children will undoubtably love an afternoon at Mattel Play Liverpool, an indoor play centre based inside the magnificent Grand Hall at the iconic Albert Dock. Fun is spread across three fully themed interactive zones – Thomas and Friends, Bob the Builder and Fireman Sam. Not your traditional soft play, this indoor adventure compromises of various hands on activities encouraging children to be creative and allowing parents to also get involved. Driving the fire truck with Fireman Sam, building masterpieces at Bob the Builder's workshop and peddling around Thomas and Friends' train track are just some of the amusing things for kids here. Little ones can even experience a meet and greet with the characters themselves, so bring a camera along to savour the memories!
Southport
A day out at Southport and its seaside amusements on the Sefton Coast is unrivalled as one of the best family friendly attractions in Merseyside for children who are slightly older. Southport's attractions can be enjoyed any day of the year, although they're especially pleasurable on a day of delightful weather. With stretches of coastline, interactive museums and gardens galore, there is an endless number of things to do for all ages. A whole itinerary can be built around a day out at Southport. Delve into the story of local history at Southport's elegant art venue The Atkinson, then head over to King's Garden and explore it's 17 acres of stunning greenery. Family fun can also be experienced at Southport Pleasureland, its mixture of thrilling amusements and rides are sure to keep everyone busy (for a few hours at least!)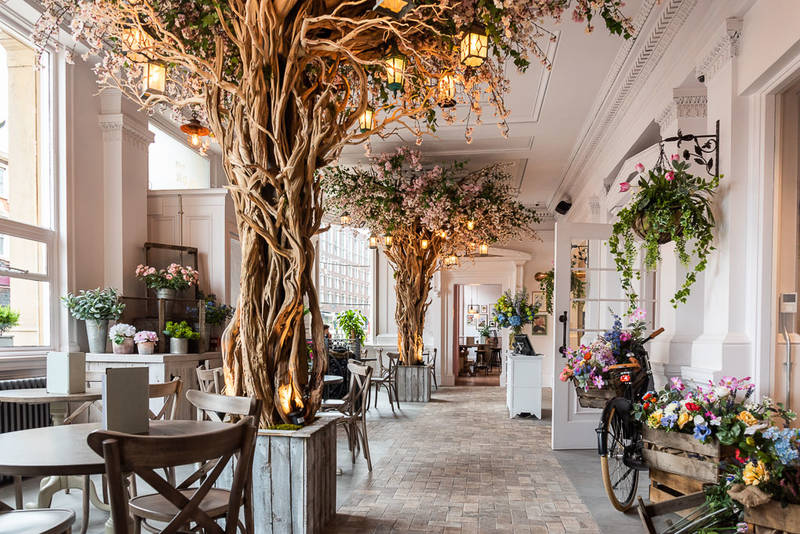 The Florist, Liverpool
When hunger strikes and it's time for a pit stop after a busy day of memory-making, come and pay us a visit at our floral Liverpudlian wonderland; The Florist. We've got some great new kids menus so little ones can enjoy a delicious main and a dessert for just £6.95 whilst our fabulous cocktail menu - featuring Florist favourites such as a White Moss Negroni and a Matcha Mai Tai - caters for the adults. Children can tuck into a healthy bento box or ramen and you can unwind with a hearty meal and a cocktail (or two) inspired by the art of floristry – win-win! Find us on Hardman Street in the heart of Liverpool and be sure to get an Insta-worthy snap in front our eye-catching floral photo wall before you leave.
Watford
Watford has something for children old and young alike making it another great city destination for a family weekend away. Fun can be found on almost every corner, meaning things to do with kids in Watford are certainly not few and far between.
Cheslyn house and Gardens
Cheslyn house and Gardens is arguably Watford's best kept secret. Its 3.5 acres of green space holds plenty for the whole family to explore including an aviary, fernery, a pond area and large herbaceous borders. Take little ones on a winding adventure through various exotic and unusual plants which the gardens designers have actually collected during their world travels. There's also a variety of wildlife to spot along the way. The gardens are a beautiful place to relax and unwind, so make a day of it and bring a picnic along.
Gambado
If it's an entertaining activity for younger children you're after, then a trip to Gambado might be just the ticket. This indoor soft play centre is a child's paradise thanks to its dodgems, large play frame, ball pool and climbing wall. Sit back and relax with a coffee or a cake after a long day whilst your little one tires themselves out. If there's one thing guaranteed here, it's a day of fun.
Cassiobury Farm and Fishery
Something special for all ages is a day out at Cassiobury Farm and Fishery, which was once a watercress farm back in the 1820's. Its watercress beds have since been brought back to life allowing for a wealth of exotic wildlife to now take residency within its luscious surroundings. Many rare species such as the Soay Sheep, Gloucester Old Spot Pig and the Norfolk Black Turkey call the farm home, so there's a great weird and wonderful selection for visitors to look out for.
The Florist, Watford
Our latest venue offering a sensory world of floral delights is located in Watford's town centre, so you can enjoy some quality family time over our iconic dishes and fragrant drinks (Peach and Lavender Cosmo, anyone?) during your time in the south east. Don't worry, we've made sure the younger members of your party are catered for by introducing our kids menus here too. For just £6.95, they can pick an appetizing main dish and a delicious dessert such as Smartie cookie dough or mini doughnuts with chocolate sauce – every child's dream, right?
Bristol
Bristol constantly has a packed schedule of activity going on meaning there's plenty for the whole family to get involved in. Regardless of the weather, which is notoriously unpredictable in the South West, these child-friendly activities can be enjoyed by all - come rain or shine.
Bristol Zoo Gardens
What child doesn't love a trip to the zoo? With an outdoor adventure playground, ropes course, splash play area and animals aplenty, Bristol Zoo Gardens is an ideal spot for a day out with kids in Bristol. Located within charming Clifton, it's notoriously the fifth oldest zoo in the world and boasts over 400 species of animals from all corners of the globe - from iconic majestic lions to inquisitive fruit bats. With so many things to see and photo opportunities along the way, you'll need to set aside sufficient time to explore. Be sure to look through the what's on guide before visiting as there's a variety of seasonally themed events and activities happening daily for little ones to get involved in.
Brunel's SS Great Britain
Once you step onboard, it's not hard to see why Brunel's SS Great Britain is voted as TripAdvisor's number one Bristol attraction. The iconic Victorian steam ship-turned-museum, designed by Isambard Kingdom Brunel, offers an interactive day of education for children with an array of activities on offer (including a treasure hunt!) There's a wealth of Victorian history waiting to be explored; and even better, the cost of the ticket allows you to return as often as you like within one year which is extremely convenient as there's lots of things to see and do.
Mojo Active High Ropes Adventure
Mojo Active High Ropes Adventure is every child's outdoor utopia. There's no threat of boredom here as there's so many activities to get stuck into such as high ropes, a climbing wall, quad bikes, an assault course and even zorb football. Whether it's a fun day out in Bristol for children, or perhaps a challenge for yourself, come and explore the great outdoors in the best possible way.
The Florist, Bristol
Complete your weekend getaway in Bristol by paying us a visit at the third of our stunning venues located along the city's iconic Park Street. We're easy to find, just look out for an extravagant floral mural adorning the whitewash brick of our recognisable gold-and-purple exterior. Our kids menus boasting deliciously healthy options, such as bento boxes served with carrot sticks, cucumber sticks, cherry tomatoes and sweetcorn, can also be enjoyed here so there's no excuse not to bring the whole family along. Not to mention, our famous food and cocktail menus means we've got the adults sorted during your city break too; indulge in a delectable Teriyaki Sirloin Steak with a Koala Tree Mojito in hand.

THE NEWSLETTER
Peruse seasonal ideas, news and promotions hand-selected by our florist.