04
March 31st, 2020
For a delicious Easter weekend!
Whilst many of us look to be swapping eating out for eating in over Easter this year, we didn't want you to have to miss out on The Florist dining experience!
Our chefs have shared their recipes you can prepare in the comfort of your home for you and your loved ones.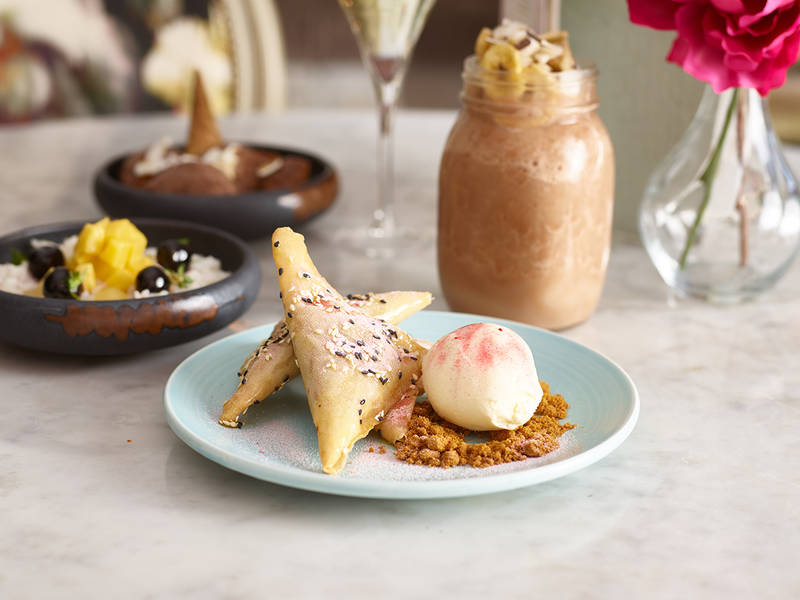 Vegan banana and peanut butter samosas
Ingredients
200g peanut butter
2 bananas 
filo pastry pack (to create 4-6 individual sheets)
golden syrup
vegan ice cream to serve
sesame seeds (optional for serving)
Method
1. Firstly, roughly mash the bananas in a bowl then combine with the peanut butter (add more peanut butter along the way if you wish to your desired ratio of peanut/banana)
2. Taking your filo pastry roll, cut it lengthways in thirds so you are left with 3 rectangular strips. 
3. Place a scoop of your peanut butter & banana mix in the top corner of the pastry strip. Then take the corner of the pastry and fold over the mix into a triangle, flattening down slightly as you do. Continue folding from the corners to create a triangular parcel. Brush the pastry with water when folding to ensure it is sealed and prevent air holes.
4. Deep fry the samomas until golden.
5. Carefully coat in golden syrup, but be careful of hot samosas!
6. Sprinkle with sesame seeds and serve with your favourite vegan ice cream.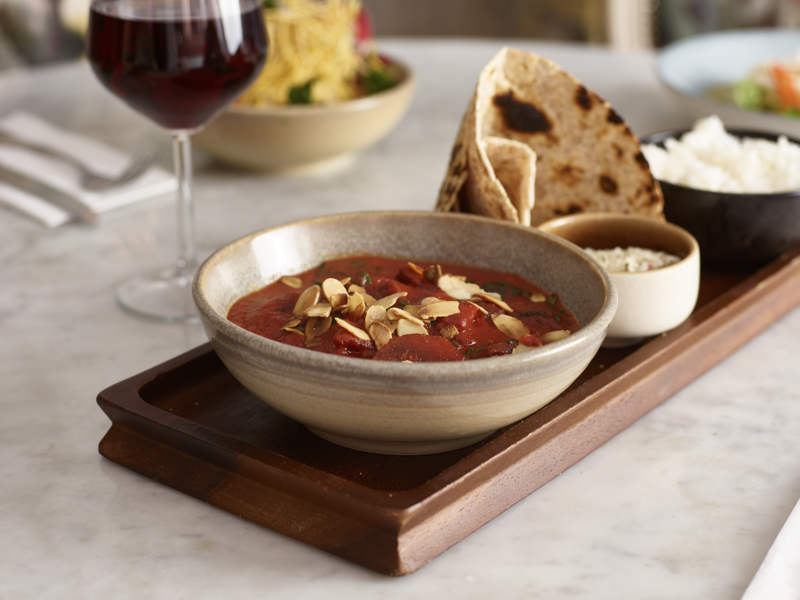 Sri Lankan Beetroot Curry with coconut chutney
Ingredients
For the beetroot curry
60ml olive oil
500g cooked beetroot
400ml coconut milk
1 red pepper (diced into 2cm chunks)
1 red onion (diced into 2cm chunks)
1 brown onion
handful of spinach
1 cinnamon stick
1 red chilli 
lemongrass
1 tsp fennel seeds
2 tsp ground cumin
2 tsp ground coriander
1 tsp curry powder
3cm fresh ginger
2 garlic cloves
toasted almonds
salt
For the coconut chutney
200g dessicated coconut
juice of 1 lemon
1 garlic clove
1 red onion (diced)
handful of fresh coriander
Method
1. Add all of the following into a blender until it forms a smooth paste: 50ml olive oil, red chilli, lemongrass, fennel seeds, ground cumin, ground coriander, fresh ginger, garlic cloves, 1 brown onion, 250g cooked beetroot (saving the rest for the curry itself), curry powder and salt.
2. Once blended together into a paste, add up to 400ml of water to combine into a smooth curry sauce
3. Heat a frying pan with the remaining 10ml of olive oil. Then fry your beetroot curry paste for 2-3 minutes. 
4. Add the red onion, red pepper and remaining beetroot to the pan. Cook until the veg begins to soften.
5. Once softened, mix in the coconut milk and spinach. Sprinkle with toasted almonds and serve.
6. Serve with coconut chutney, rice and chapatis for a warming Easter feast!

To make the coconut chutney
1. Simply add all the ingredients and pulse in a blender until combined

THE NEWSLETTER
Peruse seasonal ideas, news and promotions hand-selected by our florist.